It's a huge amount of work to put on an event. Whether you're hosting a small expert Q&A forum at your office, doing a music festival in a field or sponsoring a major conference somewhere else in the world, it is a great way to make sure that your customers learn about your brand, your product or service. Not only this, but they are great for showing your customers that they are valued and included.
Physical events can therefore offer you a good ROI, but only up to a point. They have a major downside: they don't typically last long enough to make a noticeable impact on your marketing efforts. You might expose your brand to hundreds of people on the day, but outside of that your event's reach is minimal. So how do you break through this?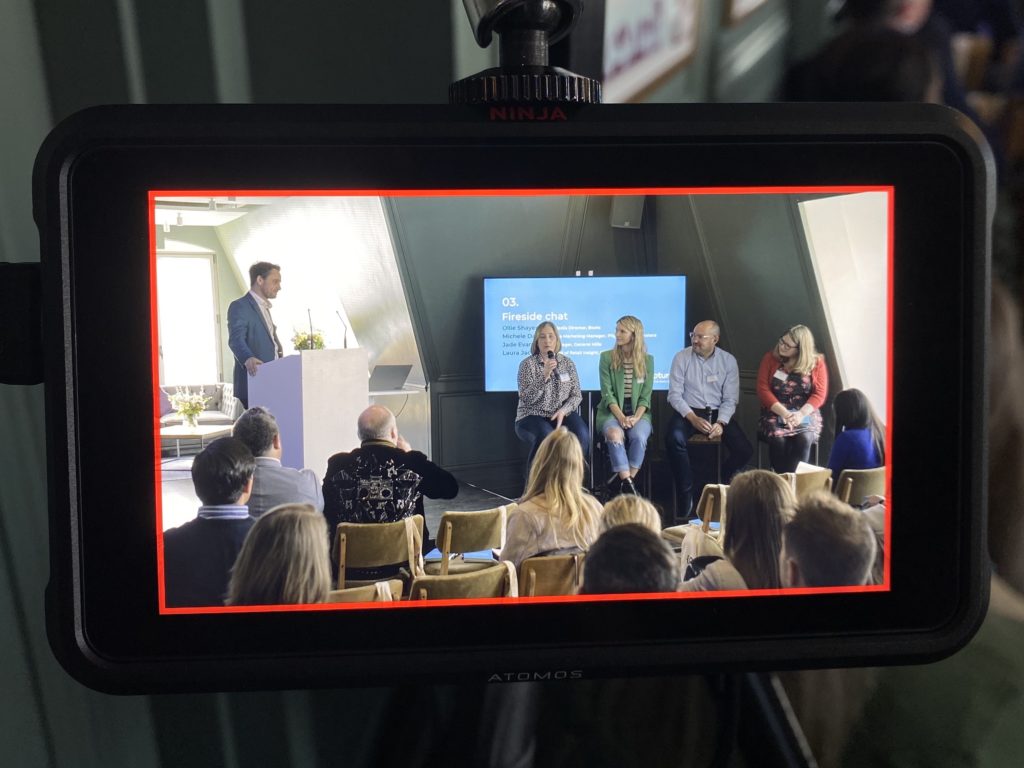 The answer is simple: by filming it. Capturing your event on video is an incredibly easy way to make your event last, and is a highly cost-effective way to spread brand awareness, brand engagement, and brand authority. And the best part is event videos can be used before, during and after an event to boost your promotional efforts, marketing efforts, lead generation efforts and more.
With the right team, filming an event can be wonderfully stress-free, and the rewards are huge. But unfortunately, it is often the last thing on people's minds when in the planning stage. Worrying about timetabling, ensuring there is enough food and seats and getting enough people to attend are normally the things on people's minds. And then, when the majority of the budget has been used, filming often becomes an add-on which is either affordable or not. You've just spent all that time and money directing all your best efforts into an event that will no doubt show you off to be amazing at what you do – so why would you not extend its reach and impact hundreds more times by utilising the power of video?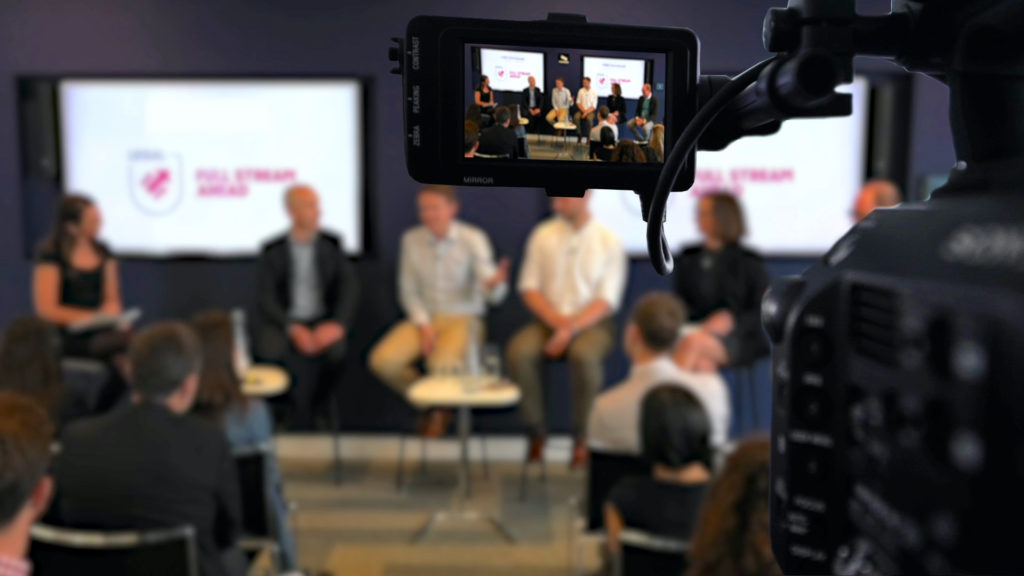 Here are a few of the ways filming your next event can help you and your company grow.
EXTENSION OF REACH AND LENGTH
Recording your event extends two major things. Firstly the length – with a video, your event will exist forever. People can see you held an event and what happened for years to come without having been there. Secondly, the reach – if only locals can attend your event, video helps share it with thousands more people nationally and internationally.
FOMO
A 'highlights film' can be particularly effective for spreading the word– essentially informing those that were not there that the event is happening or has happened, building a 'fear of missing out' (FOMO) and should attend next time. Elements like interview vox-pops with attendees can also be included and are a great way to build buzz and positive reinforcement through testimonials.
MARKETING POTENTIAL
The beauty of filming your event is the endless potential for marketing materials like this. You could cut it down into a 30-second promo for your next event, or even use a 2-minute highlight video to send to leads captured on the day or potential clients. Furthermore, you could repurpose the content for blogs, articles, or press releases.
RE-WATCHABILITY
One of the biggest benefits of filming an event is that it allows people to watch it at a later time. A full event recording is very effective when shared internally for employees or delegates to 'catch up' on a talk or presentation if they were absent. They can re-watch it as a way to take in key information, and can pause and rewind. Not only this, but if they were not able to attend at all, then they can still be a part of the event and take advantage of the information that was presented during it.
THOUGHT LEADERSHIP AND COMMUNITY BUILDING
If the subject matter is not confidential, full event films can also be shared publicly on your social channels or livestreamed to build a community following – establishing your brand as an authority in your field.
REVENUE INCREASE
Let's say you didn't sell as many physical tickets as you would hope, or the date didn't work out for a large number of people who wanted to attend. Well, why should you miss out on those extra ticket sales? Full event recordings are perfect to bundle together to put behind a pay wall to increase revenue. All someone needs to do is to buy their ticket later, and they can watch everything they missed from the comfort of their home.
LEADS AND DATA COLLECTION
Imagine all the leads you capture at a live event –emails given when buying tickets, business cards you were handed, or just follow-up emails you get from people you talk to. Those are all great, but alone they aren't very scalable. Video enables you to continue to collect leads from people anywhere at any given time. Even when your event is over, video can keep all the information offered alive and keep providing value to interested users. One of the best ways to do this is to put your full event recordings online behind a simple sign-up gate to capture email addresses for future marketing.
THE BEST MARKETING MEDIUM TO INVEST IN
You likely have a whole host of marketing tools – a website to maintain, an email list to communicate with, social pages to update, and more. Not only is it a lot to do, but finding the most engaging and relevant content to publish takes a lot of time and effort.
Video can help here too. People are 3 times more likely to watch a video than to read exactly the same content in written form – this is why video is the most powerful business tool in the world and helps drive sales more effectively that other forms of content. An event video in particular works almost anywhere, including on your website's main pages, on blog pages, in email communication, on social pages, in your sales funnels, and more.
On top of this, video is highly repurpose-able, meaning you can use it in tons of different ways
Use the audio to make a podcast
Use the transcript to make blog posts
Use short quotes for clips on social media
Pull stills from it to use in your emails
Share it with thought leaders you want to collaborate with
Boost your SEO by publishing it with full transcript
Your options with video are almost unlimited!
So there are tons of reasons to film your next event, and it should be one of your top priorities for your next one. Whatever you're trying to achieve, video converts a blink-and-miss it occasion into something bigger and much longer-lasting. Events are an investment, but video maximises the return on that investment more than anything else.
Even if you've never used video before to promote what you do or the service you provide, your events are a great place to start. All you need is to decide what kind of video will benefit you the most. Is it live streaming it to the world, posting talks for people to see, creating a promo film to encourage people to attend the next one, or maybe just using your audience through vox pops to tell people how amazing you are?
We've filmed a huge variety of events over the years and are excited to hear how we can help you.
If you'd like to chat about event filming services, you can get in touch with us at info@unexploredfilms.com or fill in our dedicated event form